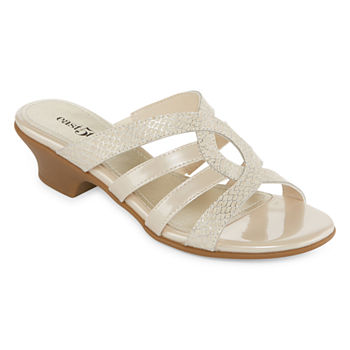 Buy One, Get TWO Free!
As low as $6.33 each!
Join our Facebook group for more hot deals!
Disclaimer: links in this post may be affiliate links, which means we will receive a (very) small portion of proceeds with no extra cost to you.  This allows us to fund our website so we can keep helping you save money!
How to get the deal:
Go HERE or click on the picture above
Add THREE of any of the shoes to your cart
At checkout, the two shoes with the lowest price will be free!
Get free shipping on orders of $49+, or you can see if there are an available for same-day pickup at your local store.
JC Penney Online Shopping Secrets
Sign up to JC Penney via email or mobile, and get extra discounts and gift codes!
JCPenney gift cards can be sent via email or regular mail, with no added fees for shipping. Choose your denomination, from $10 to $250. Both kinds of gift cards can be redeemed online or in the store, and they never expire.
You'll have 90 days to return most items with a receipt or gift receipt, or 45 days if you no longer have the receipt. There are some exceptions, so be sure to read all the rules regarding the return policy.
Enroll in JCPenney Rewards to earn $10 rewards for just 100 points in one month. Use your JCPenney Credit Card and you can earn even more rewards. You'll also get exclusive offers, coupons and perks throughout the year.
Free shipping is available to your front door for orders that are over $100, or you can place your minimum $25 order online and have it shipped to a JCPenney store near you for free.
Same day pickup is a convenient option where you can order online and your merchandise will be ready at the store of your choice within about four hours. Look for items marked "check store availability" for products that qualify for same-day pick up.
In addition to the JCPenney coupons we have HERE, look for sales, coupons and other discounts directly on JCPenney.com.
Clearance deals will save you between 50% and 70% off regular retail prices. Closeouts and sales are another good way to take advantage of further discounts.
Does JCPenney price match?
Yes, JCPenney does price match local competitor's current advertised prices. All you need to do is bring the ad into a JCPenney and speak to a team member. They'll honor the lowest price!
How can I buy a JCPenney gift card?
JCPenney gift cards can be sent via email or regular mail, with no added fees for shipping. Just select the amount you'd like to put on your gift card, from $10 to $250. Both types of gift cards can be used online or in store, they can never expire, and they can be used on anything – from women's apparel, to jewelry and watches.
Yes they do! Plus, when you apply for a JCPenney credit card, you can save an extra 15% on your next purchase, so apply today and see how you can save with your credit card.
What's JCPenney's return policy?
You have 90 days to return most items with a receipt or gift receipt. If you no longer have your receipt, you have 45 days to return your items.
Where can I get JCPenney coupons?
Savings.com offers a wide selection of coupon codes for JCPenney! From free shipping promo codes, to 30% off your purchase, be sure to check out Savings.com for all the new coupons they offer regularly.